¡¡¡¡Zhangjiagang Changlong New Material Co.£¬Ltd is a Chinese-foreign enterprise invested by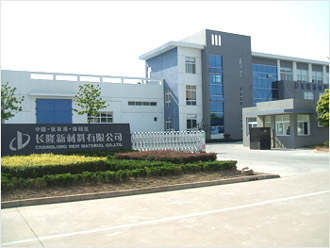 Zhangjiagang Hailun Industry Co.,Ltd. and KOMITEX-LIN in Baoshui District with ¡ç1.2million investment and ¡ç1million registered capital. Authorized by Foreign Economy and Transaction of Jiangsu Province and Jiangsu Administration for Industry and Commerce£¬ the company was founded in December in 2006. The company is specialized in printing PVC material. The product is mostly used in flooring, construction material, furniture and decoration. Presently£¬ the company has introduced the broadest CS-3700 five-color automatic imprinter unit from Taiwan. The annual output of the first stage reaches 10 million square meters and the second stage reaches 25 million square meters, which takes the initiation of wide breadth printing in China and fills national blank in wide breadth construction material and decorative material.
¡¡¡¡Changlong New Material Co.,Ltd is located in Baoshui District in Zhangjiagang, where is developed in transportation, covering port, dock and freeway, compete in the institutes of custom and commercial inspection, which provides the most convenient condition for our product¡¯s export.
¡¡¡¡The cooperative partner, KOMITEX-LIN, is a large manufacturer for flooring. It owns independent product design institute and flooring manufactory; and also has strong influence to Russia, East Europe and Middle East markets. Through the company¡¯s demand and supply information in oversea market, our product is very sensitive to the response of oversea market. Being of novel, particular pattern, our product has more advantaged information predominance compared with similar product in this industry. Being of excellent quality, natural and beautiful pattern, the PVC film can be widely used in sport flooring, large square flooring, household flooring, furniture, household electric appliance and other decorative material after various laminating methods.
¡¡¡¡Holding the concept of environmental protection, all printing ink, adhesive are the latest scientific research fruits without position, smell and pollution. So our product is deeply loved by both domestic and foreign users. Warmly welcome to our company!